When it comes to Network Attached Storage (NAS), Synology is one of the biggest names around. They offer everything from consumer-friendly hardware to enterprise level solutions. The Synology DS718+ leans toward the former.
But make no mistake, the DS718+ may not be made for the server room but it's not just for basic file storage either. Whether you have a huge personal media library, running a business from home or anything in between, this tiny box will make a big impression.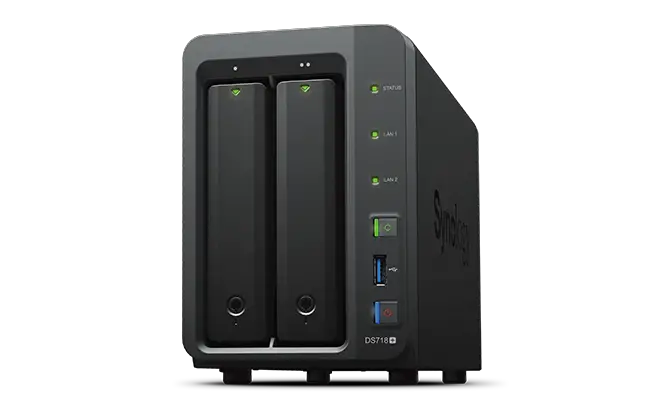 On the Outside
The Synology DS718+ (Check Amazon for Updated Pricing) is a two-bay NAS which makes it just right for most users. The drive bays are hot-swappable so you don't have to shut down the NAS if you need to add or remove a drive. Drives are loaded from the front using the removable drive trays and can be secured using a key.
Also up front are the power button, a USB copy button, a USB 3.0 Type A port, and various LED indicators. Using the USB port, you can transfer files with just one click of the USB copy button. But you'll have to configure what the button does first. You can set it to copy the files in a USB drive to a folder in the NAS or copy files from a specific folder in the NAS onto whatever drive is connected to the front USB port.
Looking over at the back, you'll find a couple of RJ-45 Gigabit Ethernet ports, two more USB 3.0 Type A ports, an eSATA port, and the power port. A 92mm fan is also back there to help cool the inside of the NAS.


On the Inside
Let's move on to the internals of the Synology DS718+.
It's powered by modern Intel Celeron J3455 quad-core processor. This processor is often found on higher-end NAS devices which gives the DS718+ one of the best performance in its class. It also comes preinstalled with 2GB of DDR3L RAM. There are two memory slots, with the 2GB module occupying one of them.
Officially, the DS718+ can be expanded up to 6GB of RAM by adding a Synology-branded memory module using the remaining slot.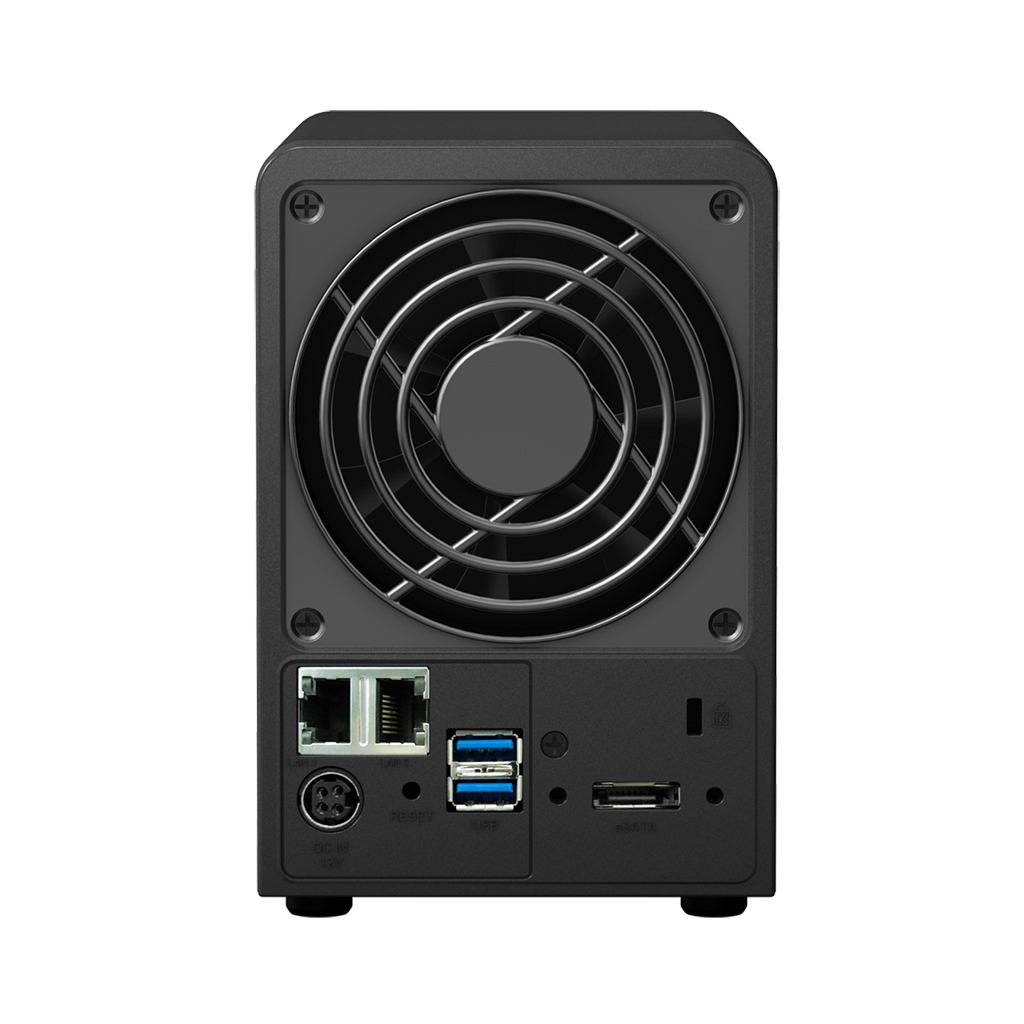 Room for More
Since we're already talking about upgrades, remember that eSATA port at the back? You can connect a compatible Synology expansion unit through that port for a total of up to 7 drives (2 main drives + 5 expansion unit drives).
If you're not afraid to get your hands dirty with your hardware, there are a couple of unofficial upgrades you can do as well.
The above-mentioned RAM upgrade is one of them. Users have reported successfully expanding the RAM to more than what's specified by Synology. Instead of being held back by the official 6GB limit, the DS718+ can have up to 16GB (8GB per slot) since it uses standard SODIMM memory modules.
The fan, while perfectly fine in terms of cooling, can also get a bit loud at max speed. If this bothers you, it's possible to swap it out with a quieter 92mm fan. Just make sure it provides enough air flow to cool the internals of the NAS.
Do note that your warranty won't stay intact with any of these unofficial upgrades. Synology won't provide full coverage if non-Synology memory modules or other components are used.
Who Is It For?
The combination of relatively powerful hardware and expandability is what makes the DS718+ more than just your average NAS box.
For home use, the DS718+ will definitely get the job done. Along with using it as backup storage, you can also set it up as a Plex media server to stream media files you have in the NAS to other devices.
Let's say you want to watch a video stored in the NAS using a smartphone but it doesn't read the file format. The DS718+ supports real-time transcoding to automatically convert the file into a readable format for your phone or any other device. Because of the Celeron processor and expandable memory, this NAS box can handle hardware intensive tasks like that smoothly.
If you're considering a NAS for small business or home office use, the DS718+ is a good place to start too. The pair of Gigabit Ethernet ports comes with Link Aggregation and Failover support to help ensure the fastest speeds and minimum network downtime.
You might be worried about having only two drive slots, especially if you're a professional photographer or videographers who deals with large RAW files. Adding an expansion unit like the Synology DX517 will solve that problem and give you a total of up to 7 drives.
What's more, the DS718+ has the option to mount that extra storage space as an extension to an existing volume instead of a separate one. You can start out small and scale up as your storage and business needs grow.
If you plan to use it to store sensitive data, the DS718+ has hardware-accelerated encryption using AES-NI. As with any NAS, read and write speeds will take a hit with encryption turned on. This is another area where the powerful hardware of the DS718+ comes in handy. Even with encryption active, performance is kept at high as possible.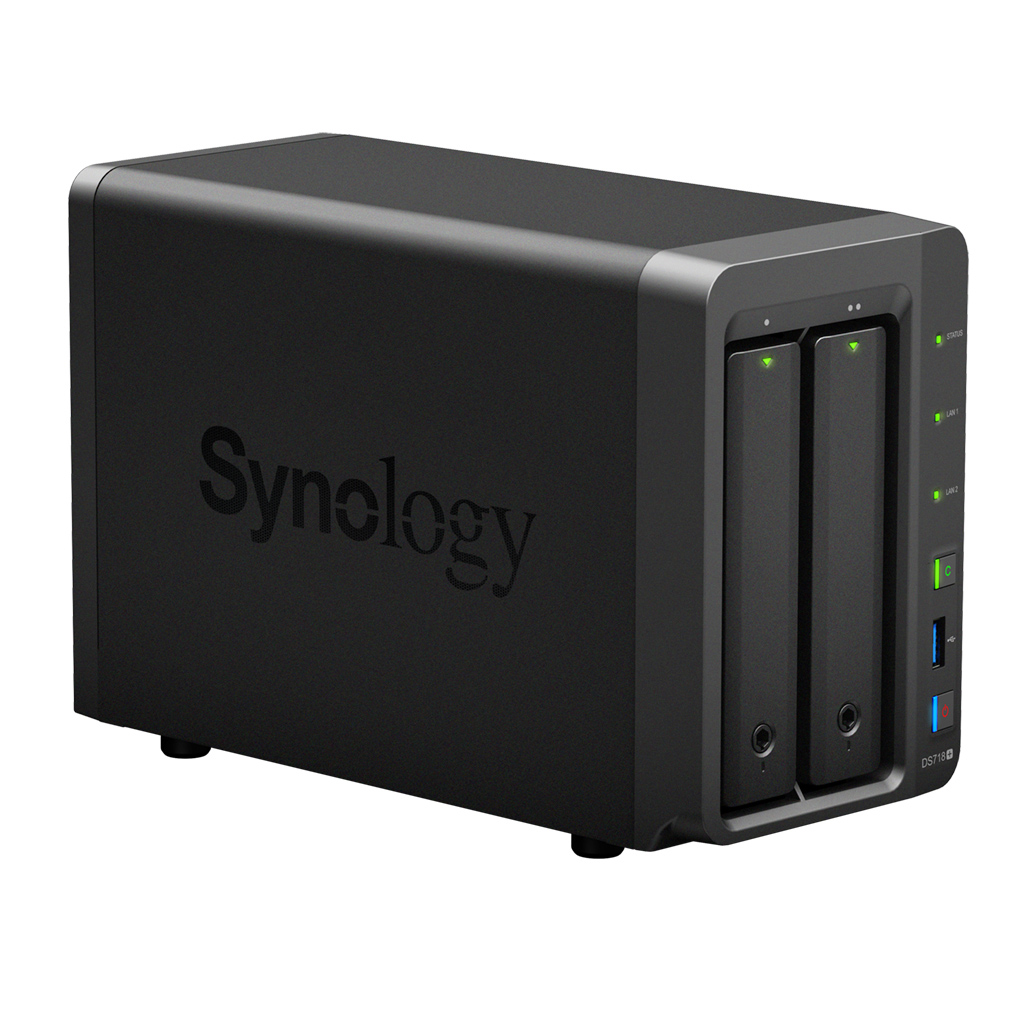 DSM Runs the Show
What brings it all together is Synology's DiskStation Manager (DSM). It's the operating system behind all the company's NAS boxes. DSM is known for having one of the most user-friendly interfaces on any NAS. You can easily configure all features of the DS718+, from setting up automatic backups to changing what the USB copy button does, through DSM.
With DSM comes Package Center, which is sort of like an app store just for your NAS. Download packages to turn your NAS into a personal mail server, private cloud storage, virtual machine, and more.
Closing Thoughts
Priced at $400, the Synology DS718+ is not an entry-level NAS. Whether or not it's worth the price will depend on your requirements. If you just need a simple solution for basic use, this might not be for you. There are other NAS boxes out there like Synology's own DS218+ that are priced lower but still have more than enough features for your needs. There's also the option of building one yourself.
But if you're looking for a NAS with capable internals and an upgrade path that makes it future-proof, the DS718+ might just be worth the investment. Backed with the convenient and easy to use DSM, this NAS just looks better and better.