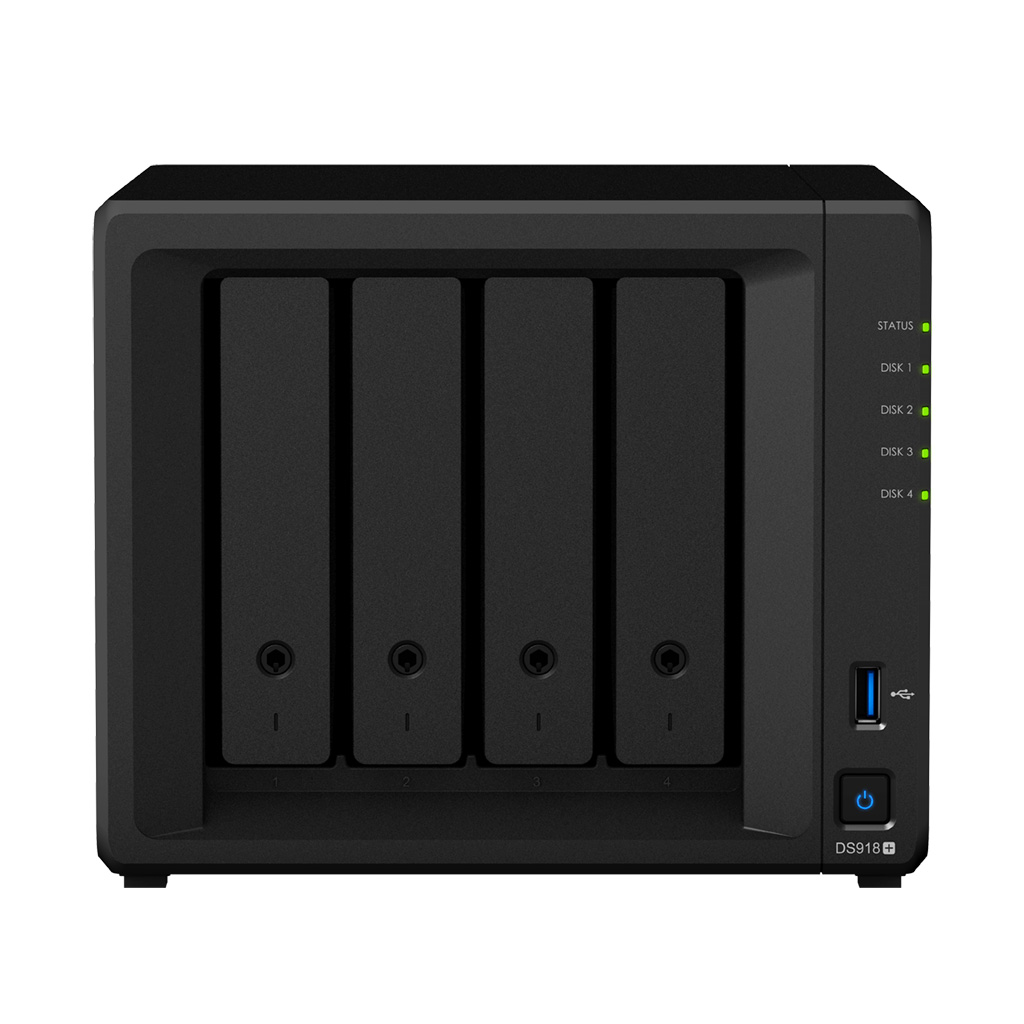 In the NAS (network-attached storage) industry, there are few companies as prominent as Synology. Founded in 2000 with the intended purpose of specializing in this type of technology, the company launched the DS-101 in 2004, its very first complete solution with full software and hardware integration. Since then, this entire field has developed immeasurably and the DiskStation DS918+ is a shining example of this progress.
As evidenced by its name, the DS918+ (Check Pricing on Amazon) is a part of Synology's "plus" series of products. This means it is intended for performance-intensive tasks and has the hardware to meet such requirements. According to the company itself, the DS918+ is primarily designed to meet the ever-growing needs of small to medium-sized businesses. Additionally, it is an excellent choice for individual users with extremely high demands.
Scalability
A crucial feature of this model is its scalability. This is what allows it to cater to such a large array of consumers, from advanced home users to the aforementioned medium-sized businesses. We'll talk more about it when we get to the hardware specs, but it's so important that it's worth pointing out twice.
This scalability offers two distinct advantages. For one, it helps future-proof your NAS. We all know that technology advances at a lightning pace nowadays and file sizes are getting bigger by the day. This way, your device can keep up for significantly longer.
Secondly, it is a cost-saving measure that may justify the Synology DS918+'s slightly higher price tag. Upgrading your current NAS means you can wait longer before you need to buy a new one. Consequently, not only does this feature save money in the long run, it also saves you a lot of time and effort you would otherwise have to spend on migrating to a completely new device. What's more, it helps cut down initial costs by allowing you to start out small and work your way up.
Hardware
Onto the heart of the matter, it's time to see what makes this NAS tick. The DS918+ has a quad-core 1.5GHz processor with burst capabilities of up to 2.3 GHz. Right off the bat, you can see you're getting a powerful machine with the potential to be so much more than a mere storage device.
Next up, we have the memory. Out of the box, this model comes with 4 gigabytes of DDR3L RAM. However, this is one of the areas where the aforementioned scalability comes into play. The RAM can be upgraded to 8GB, doubling what you started with. But wait… it gets better. Even though Synology says the max is 8GB on this device, you can actually bump it up to 16GB of RAM using this kit which is pretty easy to install.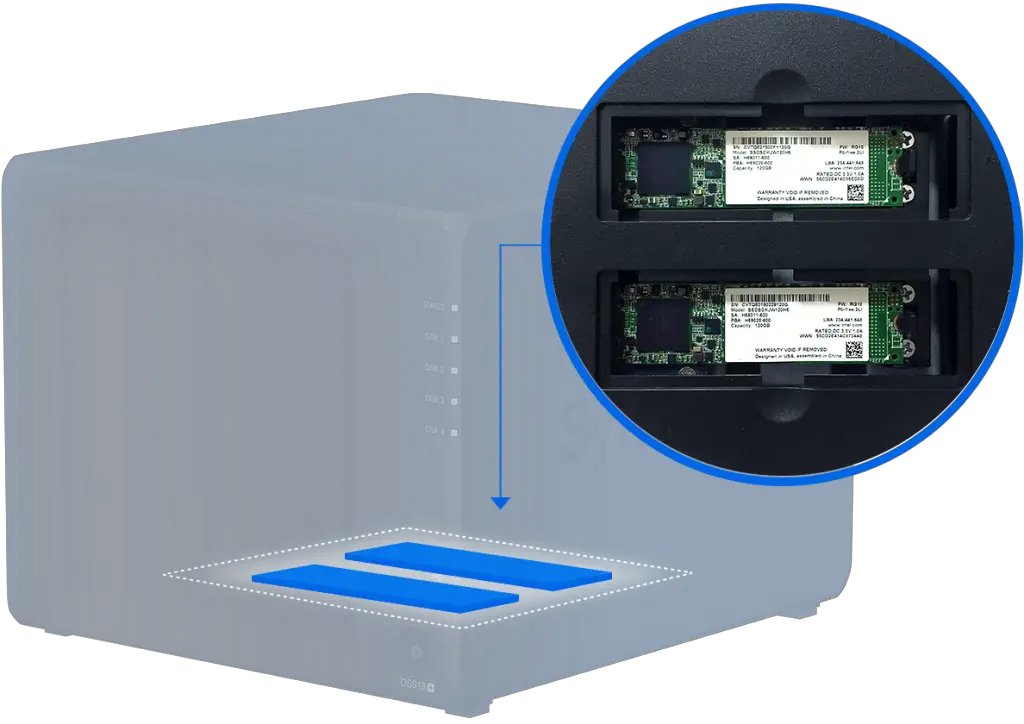 Furthermore, this is very easy to do and does not require you to disassemble the unit. You simply remove the storage drives and the memory slots will be on the right side of the case. The empty slot is vertical and closer to you, making the always-fiddly job of inserting a memory module about as easy as it can get, though you still need to be very careful as you are leaving sensitive internal components exposed. This memory expansion option is particularly important if you are interested in using virtual machines as they require a lot of RAM.
As far as network connectivity, the DS918+ has two Gigabit Ethernet LAN ports. With regard to data transfer, the maximum sequential throughput performance is around 225 Mb/s for reading and 221 MB/s for writing. Of course, these figures will vary in actual use due to several factors, but the performance is consistently good. For example, you'll have no problem streaming a 4K video.
The device has two fans in the back to keep it cool and we've found them to be very quiet. As a whole, the DS918+ does not produce a lot of noise so that is not something you need to worry about when deciding where to place it. There are also two USB 3.0 ports which can be used when you need to transfer files physically.
Storage
The most noticeable characteristic of any NAS is the storage capacity. The DS918+ has four trays and supports various HDDs and SSDs. As always, we recommend you opt for NAS-specific drives in order to maximize data safety. As we said in the beginning, you can start with one drive and add more when the need arises.
However, should you find that four drives are not enough, the DS918+ can be scaled up even further. By using the eSATA port on the back, you can attach the DX517 Expansion Unit and add five additional drive bays. This brings the maximum number of trays to nine, ensuring you won't have to worry about running out of space anytime soon.
Speaking of additional drives, the DS918+ has two dedicated and built-in slots for M.2 NVMe 2280 SSDs which can be used to improve caching. This means you can give the performance a drastic boost without sacrificing storage capacity because these drives are completely separate.
DiskStation Manager
The thing about Synology NAS devices is that their hardware, as good as it may be, is actually not the strongest selling point. And while the hardware really is topnotch, what sets Synology apart from the competition is their Linux-based operating system known as the DiskStation Manager (DSM). Naturally, the DS918+ benefits greatly from this software support and this is what allows it to realize its full potential.
There is no need to go over all the features that the DSM provides as we couldn't cover them all. From proprietary software to third-party app support, it's safe to say that the DSM does it all. The best description we could find to explain everything it brings to the table is to say that it turns your NAS into a "proper" Linux computer.
DSM is what allows the hardware at the core of the machine to really shine. It means you can use the DS918+ in situations where the powerful CPU and the extra RAM really matter. For example, you may want to stream a video to numerous devices using the DS918+. This also entails transcoding, adapting the file to each receiving device. Thanks to this combination of hardware and software, you can do this easily. You can either use Synology's Video Station and DS video or maybe go for Plex, an extremely popular third-party app.
Summary
The Synology DiskStation DS918+ is a powerful and versatile NAS, ideal for any use up to and including mid-sized businesses. A potent combination of hardware and software ensures it can do anything you would expect from a NAS device, plus so much more. It does cost a bit more than its immediate competition but we believe that the performance and longevity it provides more than make up for this.
Synology DiskStation DS918+ Specifications

CPU
CPU Model
Intel Celeron J3455
CPU Architecture
64-bit
CPU Frequency
Quad Core 1.5 burst up to 2.3 GHz
Hardware Encryption Engine (AES-NI)
Hardware Transcoding Engine
H.264 (AVC), H.265 (HEVC), MPEG-2 and VC-1; maximum resolution: 4K (4096 x 2160); maximum frame rate per second (FPS): 30
Memory
System Memory
4 GB DDR3L
Memory Module Pre-installed
4GB (1 x 4GB)
Total Memory Slots
2
Memory Expandable up to
8 GB (4 GB x 2)
Storage
Drive Bays
4
Maximum Drive Bays with Expansion Unit
9
M.2 NVMe Drive Slots
2
Compatible Drive Type* (See all supported drives)
3.5″ SATA HDD
2.5″ SATA HDD
2.5″ SATA SSD
M.2 NVMe 2280 SSD
Maximum Internal Raw Capacity
48 TB (12 TB drive x 4) (Capacity may vary by RAID types)
Maximum Raw Capacity with Expansion Units
108 TB (48 TB + 12 TB drive x 5) (Capacity may vary by RAID types)
Maximum Single Volume Size
108 TB
Hot Swappable Drive
Notes
"Compatible drive type" indicates the drives that have been tested to be compatible with Synology products. This term does not indicate the maximum connection speed of each drive bay.
The maximum single volume size is not directly related to the maximum raw capacity. (Learn more)
Expansion of the internal volume is only supported if the combined single volume size does not exceed the maximum limit of 108TB.